Mint julep
The grand-dame cocktail of the US's deep south and the signature drink of the Kentucky derby, the mint julep is regarded as the forefather of the more fashionable mojito. The bonus here is this elegant summer sipper is easier to make than its Cuban cousin (no muddling required) and contains bourbon, mint and sugar. Mixologists recommend using high-proof bourbon and chill a tall glass beforehand. Historians say the mint julep was consumed by farmers in the south in the 1800s who drank the cocktail to kickstart their morning – we suggest you at least wait until midday, or 11am, before your first one.
Whisky sour
You don't need to be wearing a winter coat or perched next to an open fire to enjoy a tipple of whisky. The whisky sour is refreshing and potent, and of course real men drink brown spirits so they might not be opposed to sipping on this summer cocktail. Combine whisky or even bourbon if that's on hand with lemon juice and sugar or simple syrup. Experts say it is all about the balance and the aim is to create a tart citrus drink which should have a bite of sweetness. A maraschino cherry counters the rich oak flavour from the whisky.
The gimlet
With only two ingredients – gin and lime juice – this remarkably simple thirst-quencher is an enduring classic. It dates back to 1867 when, in an attempt to ward off scurvy, the Merchant Shipping Act declared all British navy ships must carry stores of lime juice. The sailors decided that to make the lime more palatable and their voyage more tolerable, they would add gin to the mix. Experts agree the key to a great-tasting gimlet is in the mixing, and the general consensus is three parts gin to one part lime. Use a good-quality gin and Rose's lime cordial is preferred over fresh lime juice. The result: sweet, tart and refreshing.
Moscow mule
If there is one cocktail bartenders and mixologists despise making, it is the Moscow mule. Easy and boring, they say, which makes it great for at-home summer parties. Add vodka and lime juice to a glass filled with ice, then top with ginger beer and a wedge of lime. The spicy and refreshing drink was created in the 1940s by entrepreneurs Jack Morgan and John G Martin who wanted to market vodka to Americans. At that time the mule was served in engraved copper mugs but you can use any old glass or mug – just make sure it's chilled.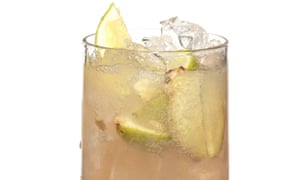 White sangria
The Australian version of the Spanish-style punch, white sangria is ideal for barbecues, picnics and summer gatherings in the backyard because it can be served to the masses – and is a help-yourself type of drink. The key is not to scrimp on the white wine, so prepare to pay $15 to $20 a bottle. Choose a wine that you could drink on its own – aim for a crisp white, such as white rioja or a sauvignon blanc. Include lots of summer fruits such as strawberries, lime, lemon, peaches and raspberries, and garnish with mint or basil. Bonus: this cool summer punch can be made hours beforehand and refrigerated, giving you time to prepare the food.